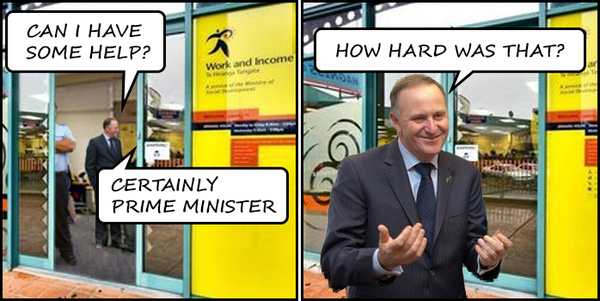 Some months ago I observed some of the most jaw-dropping behaviour at a local Auckland WINZ office. Accompanying my aunty who is legally blind, we went to WINZ to query why her disability allowance had been adjusted. Joining a long queue of about 15 people that morning being staffed by one person, we eventually advised them that we were present and then sat in the waiting area for another lengthy wait. Out pops the case manager who calls out aunty's name and absolutely butchers this proud Samoan name, we follow her to her desk.
Aunty passes on her details while the case manager enters this into her computer. Before we get the chance to talk about the reason for our visit, she says that a portion of the benefit has been adjusted as we need to provide an updated medical certificate of her condition. Aunty dutifully hands over a signed medical certificate from her GP outlining her condition as has been requested. Pretty straight forward visit we thought. Not so.
The case manager looks her straight in the face and says "you don't look blind to me" then pulls out a piece of paper from her drawer and asks my aunty to read it, as proof that she's visually impaired. About to explode with rage I sit there allowing my dear Samoan aunty to handle this despicable situation, with the case manager sitting behind her desk, arms folded with that 'well, go on prove me wrong look'. My aunty tells her about her respected GP and how this isn't some sham where she's faked a medical certificate. She asks her case manager to produce her medical degree as proof that this is an acceptable test on how to prove her disability. A very heated and somewhat ridiculous conversation ensues with the case manager making no sense whatsoever.
WINZ offices are often patronising and belittling, as experienced by my aunty that awful morning. This is only made worse by mainstream NZ media that portray beneficiaries as bludgers who are lazy coupled by ministers of the Crown who throw out peoples personal details when they need a public distraction. All the while there are very real cases of need in our community. To my dismay, my aunty went back a week later after being told to go to a WINZ approved doctor to get yet another medical certificate. That doctor apologised to her for the time she wasted to get further documentation that matched what her own GP had signed only a week earlier.
I wanted to handle this situation so much differently. But it was out of respect for how aunty wanted to approach this case managers plain arrogance and stupidity that we held back. This is the organisation that makes you go to CV preparation seminars and job interview practice courses in the name of preparing you for work – all the while stripping you of any dignity and pride you walked into their office with. And if you don't attend or are 5 minutes late they cut your benefit. But case managers who test your vision… that has to be a new low for WINZ.