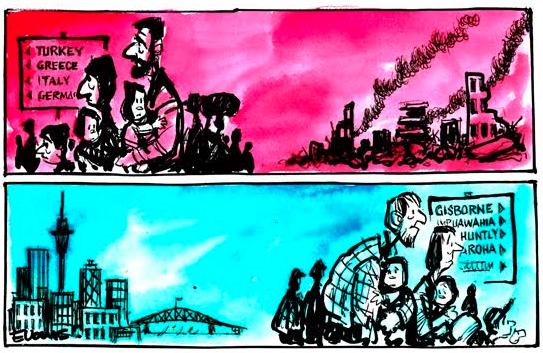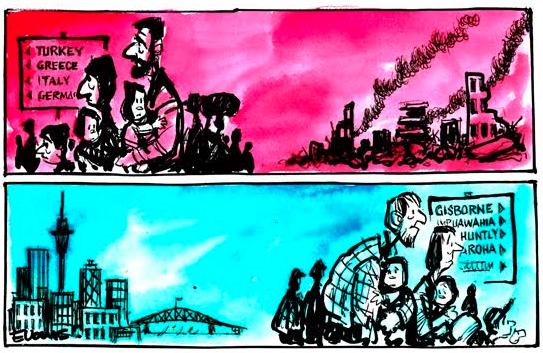 Last year I went to Australia and visited a family of refugees I had known when they were stuck in Thailand.  They had gone to Thailand to flee persecution in their home country.
After a stressful and uncertain period of almost five years when they were forced to live in Thailand without any legal status, without any right to work, or any education for their children, they were fortunate to be resettled in Australia.
In Australia, they no longer have to fear being arrested at any moment for being illegal.  They can (and do) work.  Their kids are going to school and even speak now with Aussie accents.  For this entire family, resettlement had completely and utterly changed their lives.
So, I was a strong proponent of the government doubling our resettlement quota.  I have seen first hand the benefits it brings to refugees, while also strengthening our communities through diversity.  In my experience, the children of refugees are often very successful – sharing their parents' ability to endure.
TDB Recommends NewzEngine.com
But, the decision this week on our refugee quota was as disappointing as it was predictable.
The decision to raise the quota to 1000 refugees per year from the current 750 does nothing to redress the three decades of no increase to our refugee quota.
It is a token gesture designed to mollify proponents for more resettlement and to be able to tell the general population that the government is "doing something".
The quota will only be increased from 2018, which is another compromise.  It seems that the "optics" of being seen to do something trumps over actually acting in a protection oriented direction to substantively contribute to providing real and enduring protection from persecution.
For this is the classic, tried, and tested strategy of this government.  I call it the compromise strategy.  It goes a little something like this:
Deny there is a problem
Do some polling
Blame someone else for the policy
Do some polling
Come up with some stats to claim that things aren't as bad as they are set out to be

Design a brave and thoughtful response to the problem that inspires New Zealanders

Do some polling.
Announce that you are open to doing something, while continuing to minimise the problem
Do some polling
Say something like "what difference can we make? We're so small?" whether it be refugees/human rights/climate change
Run on a platform at the United Nations that New Zealand deserves to be on the Security Council because we punch above our weight and uphold the importance of human rights
Do some polling
Announce a policy response that tinkers with the problem
The problem with this approach, and while it might keep you in government, is that it does not actually lead to any comprehensive governing.  Any real governing is put off for another time.  But, when all you care about is power, real governing is never the goal.  Is it?
For the population, real governing remains elusive.  And, now we are seeing the real results of a lack of proper governance through the growing inequalities in our society all too evident by what is happening at Te Puea Marae.
The current global refugee framework is under extreme pressure.  The numbers of those forcibly displaced is at greater levels than ever seen on the planet before.
According to the United Nations High Commissioner for Refugees there are approximately 59.5 million individuals forcibly displaced.  On average, 42,500 people a day are forced to leave their homes.
Of those, 19.5 million are refugees.  The definition of being a refugee is that you are unable to return to your country due to a substantiated and intolerable risk of facing persecution for discriminatory reasons (under the 1951 Refugee Convention).
Of those 19.5 million refugees, 51% are children.
The countries hosting the highest number of refugees are Turkey, Pakistan, Lebanon, Iran, Ethiopia.  Not Europe.
Lebanon hosts just over 1 million refugees, with a population of barely over 4 million before the Syrian civil war.  According to Amnesty International, that amounts to 1 in 5 people in the country is a refugee.
Canada has announced that it will take up to 44,800 resettled refugees during 2016.  Using a back of the envelope calculation, I get a ratio of about 1:850 (for this year).
But down here, we'll get 1,000 from 2018.  Again, doing my back of the envelope calculations (actually, it's my smart phone), I get a ratio of 1:4,600 (in 2018).
Yes, the numbers are insurmountable (and my stats fallible).  But, the simple truth is that our contribution is miniscule.  As a country who is surrounded by the ocean, resettlement is a tangible way for us to contribute.  The government had a chance to significantly increase our contribution, but instead chose the road of compromise.  Unfortunately, that seems to be a road well-travelled.
While 250 more is better than nothing, I would prefer something more than compromise.  I would like to see New Zealand actually meet its supposed values and be an active, constructive player internationally.
But, it seems that compromise doesn't countenance that.  Rather, it merely signals defeat.