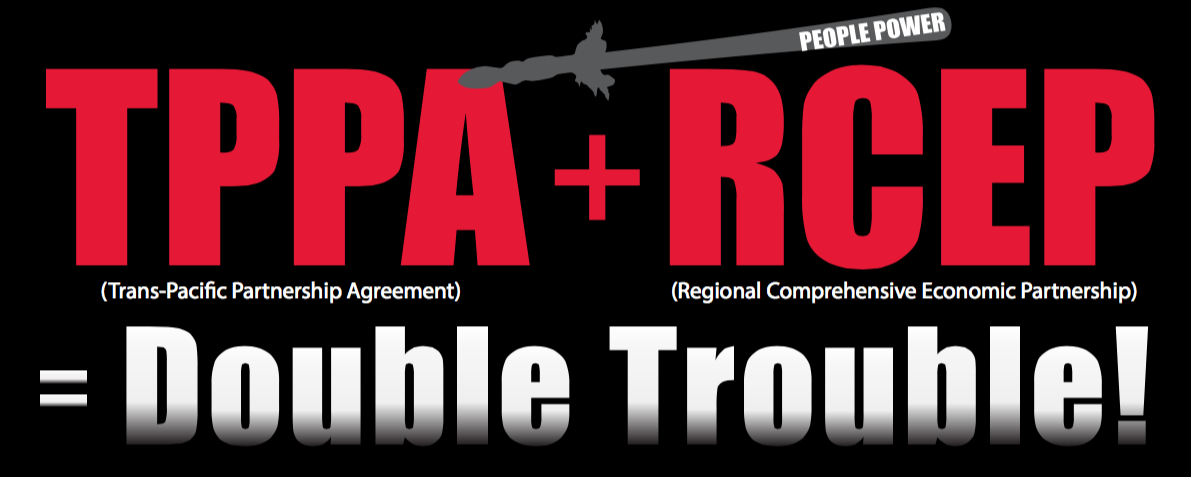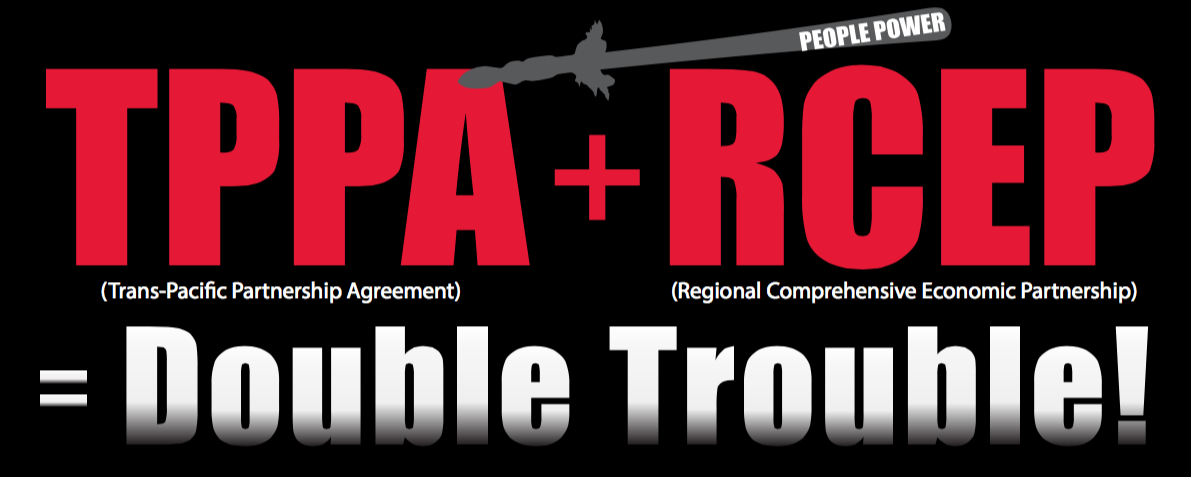 If you were breathing a sigh of relief that the TPPA may fall to the vagaries of US politics – perhaps the only good thing to come out of either a Clinton or Trump win, if they actually do as they say – I have bad news.
There's another dangerous 4 letter negotiation in town this week, meeting behind closed doors in Sky City – the Regional Comprehensive Economic Partnership or RCEP. Most of the same players. Japan, Australia, Singapore, Malaysia, Brunei, Vietnam from the TPPA. South Korea, with whom NZ signed a deal last year modelled on its terrible deal with the US – one of those that Obama demanded was revised further in the US favour before he would bring it into force. The rest of the ASEAN countries – Thailand, Indonesia, Philippines, Burma, Laos and Cambodia – with whom Australia and NZ already have a deal. And India.
RCEP is China's counter to the TPPA. The US sees this as a battleground for control of the Asia Pacific. In Clinton's desperation to sell the TPPA, he has been playing the China card for all he's worth. Last month Obama took China-bashing to a new level:
'As we speak, China is negotiating a trade deal that would carve up some of the fastest-growing markets in the world at our expense, putting American jobs, businesses and goods at risk. … The world has changed. The rules are changing with it. The United States, not countries like China, should write them. Let's seize the opportunity, pass the Trans-Pacific Partnership and make sure America isn't holding the bag, but holding the pen'.   
He was talking about the previous round of RCEP negotiations in Perth. This week's round, from 12 to 18 June, is the 13th. Yet almost no-one hear has heard about it. That's partly because the TPPA has hogged the limelight as the focus of government and corporate priorities and (rightly) of our opposition.
TDB Recommends NewzEngine.com
It's also because RCEP is shrouded in the same obsessive secrecy as the TPPA even without the formal secrecy pact of the TPPA. New Trade Minister Todd McClay, who promised a new regime of openness, refused to release even a full list of the chapters under negotiation after an Official Information Act request.
According to McClay, the parties have been urged to safeguard the confidentiality of all negotiating documents. That's probably because it has started to leak, albeit more slowly than the TPPA. The October 2015 investment and intellectual property chapters are posted on the Electronic Frontier Foundation website. Hopefully there are more to come.
At least we have got them to agree to 'stakeholder' sessions on Tuesday afternoon when the hard questions can be put to negotiators. From experience in TPPA, we don't expect any answers …
Here's five reasons why we need to get RCEP on our radar and treat it as the flip side of TPPA.
First, if the TPPA doesn't come into force – which is about a 50/50 chance at present and almost zero in its current form – then RCEP will become the rule-setting agreement for the Asia Pacific. It follows broadly the same model as the TPPA, less extreme in places, but equally toxic in parts that matter. The leaked investment and IP chapters show Japan and South Korea are trying to export some of the worst parts of TPPA into RCEP. If we don't want the TPPA, we have don't want it through the back door of RCEP either.

Second, some parts of RCEP are worse than TPPA. It looks like there is no labour or environment chapter to provide even a pretence of balancing the damaging impacts of other rules, especially on investment. China is proposing investor-state disputes take place in secret, with no access to documents by people in the country being sued and no ability for those who are affected to try to submit

amicus curiae

briefs.

Third, there is more internal resistance within RCEP than in TPPA and a chance to push for alternatives to the TPPA. That doesn't address the fundamental problems with such deals, but it shows some countries are committed to finding substantial rather than cosmetic fixed. India, in particular, is pushing for an alternative approach to investment based on a new model for investment agreements it adopted late last year, and as the world's largest generic medicines exporter has been opposing some of the strongest new monopoly powers for Big Pharma.  The New Zealand government should be asked whether it is supporting India, and if not why not.

Fourth, the Waitangi Tribunal said the government needed to talk with Maori about strong protections for the Treaty of Waitangi and their other interests. Those talks are just beginning. It need to conduct those discussions with a broad range of Maori in good faith and reach an agreed outcome before it tables anything in RCEP. This is the chance to build on the arguments from the Waitangi Tribunal for the future.

Lastly, there is no upside to this agreement, just as there wasn't with the TPPA. Given the existing web of agreements the only new market access for exports would come from India, and they have proposed giving NZ and Australia very little. They are likely to use it with the same shonky modelling they used for TPPA. One of the authors of the Tufts University study that blew holes in that modelling, Dr Jomo Sundaram, is in NZ next week and will be talking about this with MPs in Wellington and at public meetings there and in Auckland (see below).
The special investor protections and rights to sue, potential TPPA-style restriction on medicine patents, and additional fetters on the government's right to regulate, include the finance sector, plus other unknown content, make this another unbalanced deal. A proper cost-benefit analysis is needed while negotiations are in train that put the burden of proof on the government to justify even being at the table.
Ultimately, we know why they are there and why they want to keep it secret. This is about locking in the failed neoliberal model and trying to remain besties with both the US and Japan. Neither is sustainable or in the nation's interest. It's time for us to get off this merry go round and focus on what kind of economic model and international relations are going to work for the people of Aotearoa in the future.
What can you do? There is a public meeting in Wellington on Thursday 16 June, 6pm at Massey University Museum Theatre (10A01 Buckle St) and for Aucklanders at 6.30 pm on Friday 17 June at St Matthew in the City. More on the itsourfuture facebook page and a short explanation of RCEP will be on the itsourfuture website early next week.