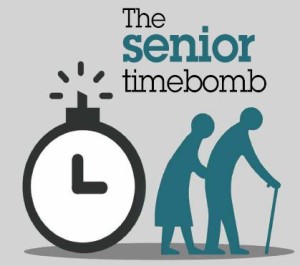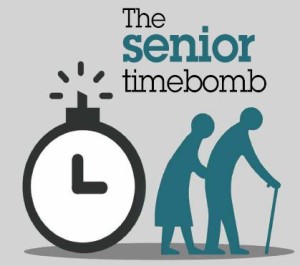 Inconveniently there is one very large elephant in the room. The Minster of Finance chooses not see it, and does not want anyone, especially academics, drawing attention to it.
New Zealand hardly ever talks about the demographic shift we are currently experiencing. There is virtually no independent analysis of the economics of the rapidly ageing population except from the grossly underfunded Retirement Policy and Research Centre. The Retirement Commissioner is doing the statutory three yearly Review this year. Who knows about that? Where is the discussion of the terms of reference? It is now February and time is marching on.
There are clear fiscal pressures from the ageing of the population. Treasury's long term fiscal forecasts makes that clear. But there is little sympathy in high places for using the metaphor of an inevitable silver tsunami of the growing aged population.  The Minister of Finance was reported in the NBR late last year
"Despite indignant protests to the contrary, Finance Minister Bill English opined at a recent seminar that the "aging population doesn't matter." The statement was part of what he calls "doing stupid stuff," which the current government wants to stop doing. "In the past five or six years," he says, "we haven't had to waste any time arguing, because there's nothing you can do about [the aging population]."
 However English concluded: "There are only 2 two fiscal answers to the ageing population: pay fewer people, or pay them less, that's it!"  
The pressures will make change inevitable and that if debate is shut down now, those changes are likely to be ad hoc and ill thought through. This has happened already in the decision to axe the KiwiSaver kick start. Where was the consultation and distributional analysis of that knee-jerk cost saving? Never mind, the baby boomers got the best of it.
New Zealand has lessons for the rest of the world in our retirement policies, some good and others not so good. The evolution of KiwiSaver as the world's first auto-enrolment national programme continues to attract much international attention. Many New Zealanders don't appreciate how clever NZ has been with this programme, but even so it is far from perfect.
Lets hope this year we can have a real debate. Baby boomers are currently retiring in large numbers swelling the relatively fit and well younger retired group. This cohort begins to turn 85 years from 2030 and will swell the ranks of those with marked need of health resources. We are just drifting, lulled into a dangerous complacency.
TDB Recommends NewzEngine.com