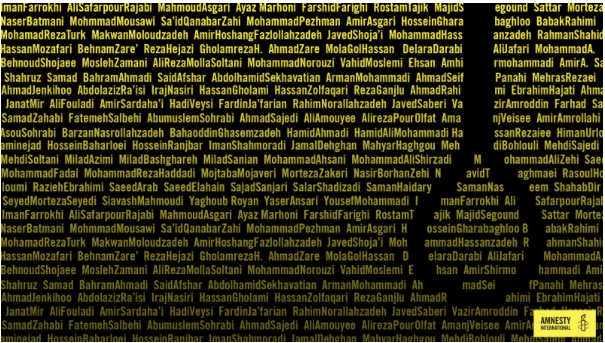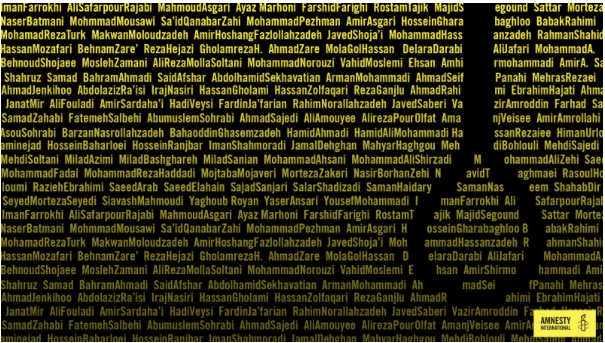 The names of young people who have been executed and those that remain on death row in Iran. © Amnesty International
By Sara Daneshvar – volunteer writer with Amnesty International
In December last year I, as well as thousands of other Amnesty International supporters, wrote a letter to the Iranian authorities urging them to retrial Saman Naseem, a juvenile offender who was sentenced to death for alleged crimes committed when he was 17.
Saman was tortured into confessing to shooting a soldier. And using this 'confession' he was sentenced to death.
TDB Recommends NewzEngine.com
It's simple, this should not be happening.
Iran is signatory to the Convention on the Rights of the Child. The Convention indicates that Iran is legally obliged to treat everyone under the age of 18 as a child and ensure that they are never subjected to the death penalty, nor to life imprisonment without possibility of release.
It is time for Iran to respect their international obligations, and for international actors to put pressure on Iranian authorities and shed a light on their abuses.
That's precisely what Amnesty International's latest report, "Growing up on death row – Death penalty and juvenile offenders in Iran", is doing. It debunks recent attempts by Iran's authorities to whitewash their continuing violations of children's rights and deflect criticism of their appalling record as one of the world's last executioners of juvenile offenders.
Let's remember that, despite some juvenile justice reforms, Iran continues to lag behind the rest of the world, maintaining laws that permit girls as young as nine and boys as young as 15 to be sentenced to death.
Iran's death penalty record is atrocious.  At least 2,000 people are currently awaiting death in prison cells. The number of executions for 2015 varies from at least 966 to 1,084, even though it is extremely likely to be much higher, given the Government's secrecy surrounding capital punishment. With these numbers, it's no surprise that Iran tops the grim global table of executioners.
Between 2005 and 2015, Amnesty International recorded 73 hangings of child offenders, including at least four in 2015. A UN report issued in August 2014 stated that more than 160 juvenile offenders were on death row.
But there are reasons to hope the situation can get better. After years of criticism, Iran changed its Islamic Penal code in 2013 allowing judges to assess a juvenile offender's mental maturity at the time of the offence, and potentially, to impose an alternative punishment to the death penalty on the basis of the outcome. Also in 2014, Iran's Supreme Court confirmed that all juvenile offenders on death row could apply for retrial. In June 2015 Iran introduced reforms specifying that juveniles accused of a crime must be dealt with by specialised juvenile courts.
Too often, Iran is mentioned in the media for its appalling human rights record, and is viewed sometimes with apprehension, sometimes with misunderstanding. I'd like to challenge that perception by saying that Iran is a great country with a long and rich history, and its people are proud of their culture.
That's why it's important to talk about Iran's human rights abuses, because it can and should be better. But it is equally important not to demonise a country and to recognise the authorities' potential to improve and strive to promote and protect human rights, including the rights of its younger citizens.
As Iran re-enters the world of international diplomacy and is being perceived in a more positive light, it is crucial that world leaders, including New Zealand, use such new channels to raise concerns with Iranian authorities.
Challenging the widespread use of capital punishment in the country and urging them to immediately commute all death sentences for juvenile offenders would be a great place to start. I hope that continued pressures on Iran will eventually prove too tough to bare, and demonstrate to the Iranian authorities that the world cares about how they treat their people.  
I am categorically opposed to the death penalty, in any way, shape or form, and I stand by the phrase "The death penalty is not a sentence, it's a full stop." The death penalty never serves justice. Iran needs to build a fair society with human rights at its basis, and respect individual freedoms.
Read the full report here: https://www.amnesty.org.nz/juvenile-offender-tortured-and-sentenced-death
Take action for Saman Naseem – https://www.amnesty.org.nz/juvenile-offender-tortured-and-sentenced-death